ATW-DISCOVERY 2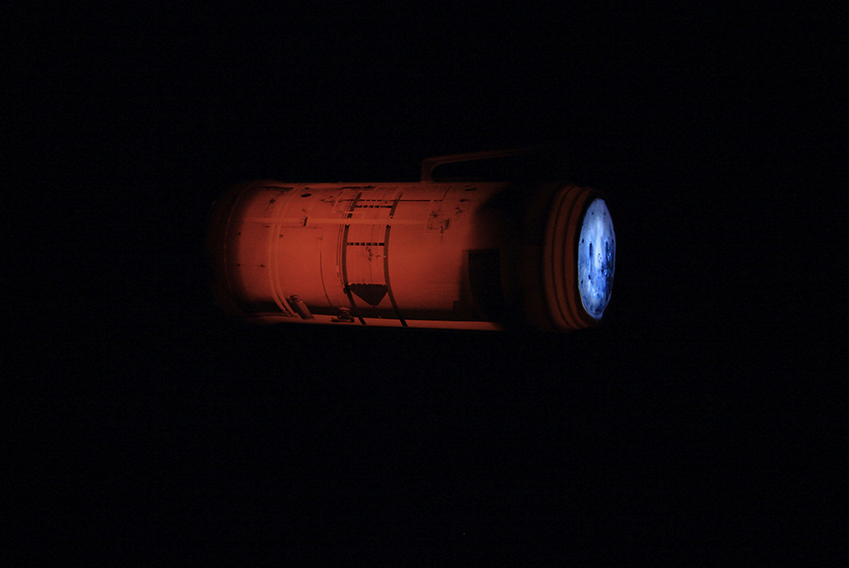 Videoinstallation
Ortsbezogene Dimensionen, Tabakfabrik Linz
2010
"ATW-Discovery2" spielt mit der Science Fiction Atmosphäre, die sich durch die leeren Räumlichkeiten der stillgelegten ehemaligen Austria Tabakwerke Linz für viele BesucherInnen aufdrängt. Die Installation versucht, nur kurz, den Eindruck zu vermitteln man befände sich auf einer Raumstation, die von wenigen Personen bewohnt ist,
die nur mehr kontrolltechnische Arbeiten ausführen. Die Raumstation läuft vollautomatisiert und benötigt nur noch selten Wartungsarbeiten. Im Zentrum der Videoinstallation befindet sich ein Bullauge eines Transportliftes, das zu einem Bullauge der Raumstation wird, durch das ein Raumschiff für kurze Zeit, nach oder vor dem Andocken, zu betrachten ist. Das Raumschiff entpuppt sich bei genauerer Betrachtung als Heizkessel des hauseigenen Kraftwerks. Der Klang des Raumschiffs ist der Originalklang des Heizkessels der Tabakwerke und wurde vor Ort für diese Installation aufgenommen.
————–
ATW Discovery 2
Site specific dimensions, Tobacco Factory Linz
2010
ATW-Discovery2 emphasizes the science fiction-like atmosphere that is perceived in the empty halls of the abandoned Austrian tobacco factory in Linz. The installation implies the sensation of being on a space station that is only inhabited by few people who merely perform technical controlling tasks. The space station runs fully automated and rarely requires maintenance. The bull's-eye of the goods elevator that transforms into the bull's eye of a space station is the focus of this piece of work. Through this window a spaceship can be seen, only for an instance, shortly before or after docking. When observed more closely, the spaceship turns out to be the boiler of the power house of the factory. The sound that is produced by the spaceship, is the original sound of the boiler and was recorded for this installation.