GOING CALYPSO
mit Jakob Dietrich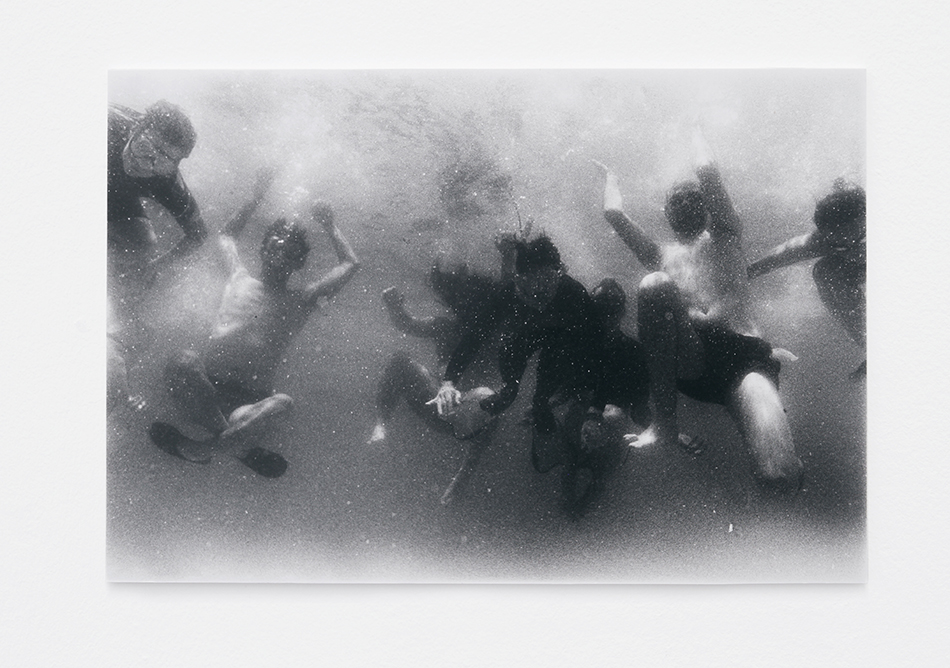 Analoger Fotoprint
schwarzweiß, 240mm x 300mm
2014
"From birth, man carries the weight of gravity on his shoulders.
He is bolted to earth, but man has only to sink beneath the surface and he is free."
Jacques Cousteau
Inspiriert durch ein Fotoporträt des französischen Entdeckers, Fotografen und Erfinder Jacques Cousteau und seiner Familie, zeigt "Going Calypso" die Ergebnisse von Obwegesers und Dietrichs Untersuchung der zwei wichtigsten Begriffe von Expeditionen im Allgemeinen: Freiheit und Unsicherheit. Unerfahren mit dem Anwenden von vertrauten Prozessen in einer Unterwasserumgebung, begab man sich in ein Unternehmen mit vielen fragwürdigen Parametern. Die "Permanent Expedition" Crew (die Ausstellungsbeteiligten des Projekts in Spanien) wurde gebeten sich einem Gruppenfoto-shooting unter Wasser anzuschließen.
Ein wesentlicher Bestandteil dieses Projekts war das Fotografieren mit der analogen Unterwasserkamera "Nikonos V", einem Nachfolgemodell der Calypso Kamera, die von Jacques Cousteau mitentworfen wurde.
————–
GOING CALYPSO
with Jakob Dietrich
Black & white photographic print, 240mm x 300mm
2014
Inspired by a portrait of the French explorer, photographer and inventor Jacques Cousteau and his family, Going Calypso shows the results of Obwegeser's and Dietrich's examination of two main notions of expeditions in general: freedom and uncertainty. Being inexperienced in utilizing familiar processes diverted from its intended use in an underwater environment, they embarked themselves on an undertaking containing various questionable parameters. The "Permament Expedition – Crew" was asked to join a photo shoot for a group portrait underwater. An integral part of this project was photographing with the analogue underwater camera "Nikonos V", a successor model to the Calypso Camera, which Jacques Cousteau helped to design.