SUPERHEATING EXPERIMENT / HOW TO BRING A PAINT BUCKET TO LIFE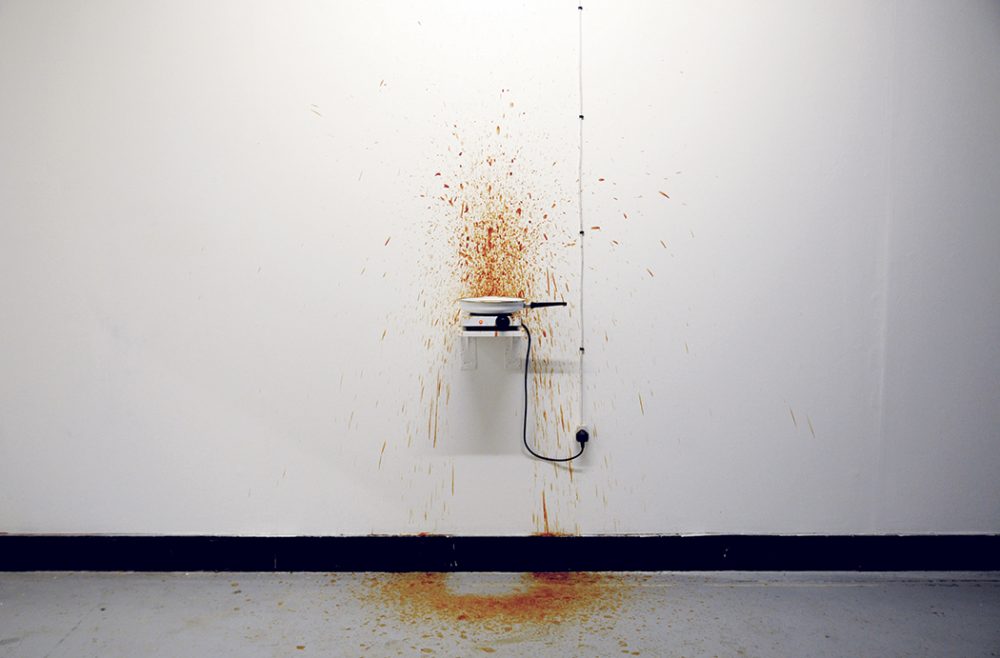 Installation Foto: Katharina Anna Loidl
Variable Dimensionen
Einzelkochplatte, Pfanne, Tomatensauce
2011
Diese experimentelle Versuchsanordnung befasst sich mit dem physikalischen Phänomen des Siedeverzugs. Das Phänomen bedeutet, dass man Flüssigkeit in einem metastabilen und damit gefährlichen Zustand über ihren Siedepunkt hinaus erhitzen kann. Die Installation setzt sich zusätzlich mit einem erweiterten Begriff des Malens auseinander, bei der die Anordnung unbelebter Objekte den künstlerischen Akt übernehmen.
SPLATTER
Video 5 min.
2011
Während der ersten Experimente entstand ein Videofootage das zu einem 5 min. Film verarbeitet wurde. Zu sehen sind verschiedene, teilweise abstrakte Einstellungen der Installation.
————–
SUPERHEATING EXPERIMENT/ HOW TO BRING A PAINT BUCKET TO LIFE
variable dimensions
hotplate, pan, tomatosauce
2011
This experimental set-up deals with the physical phenomenon of superheating.
The phenomenon implies that any heated liquid can exist in a metastable state, above its boiling point, but in an extremely dangerous condition.
The installation also deals with an extended concept of mark making, where the arrangement of inanimate objects adopts the act of painting.
SPLATTER
Video 5 min.
2011
The first experiments for this installation were recorded on video and processed into a 5 minute movie. The movie shows different, abstract shots from the installation.