THE SPIRIT OF AUDIO PERFORMANCE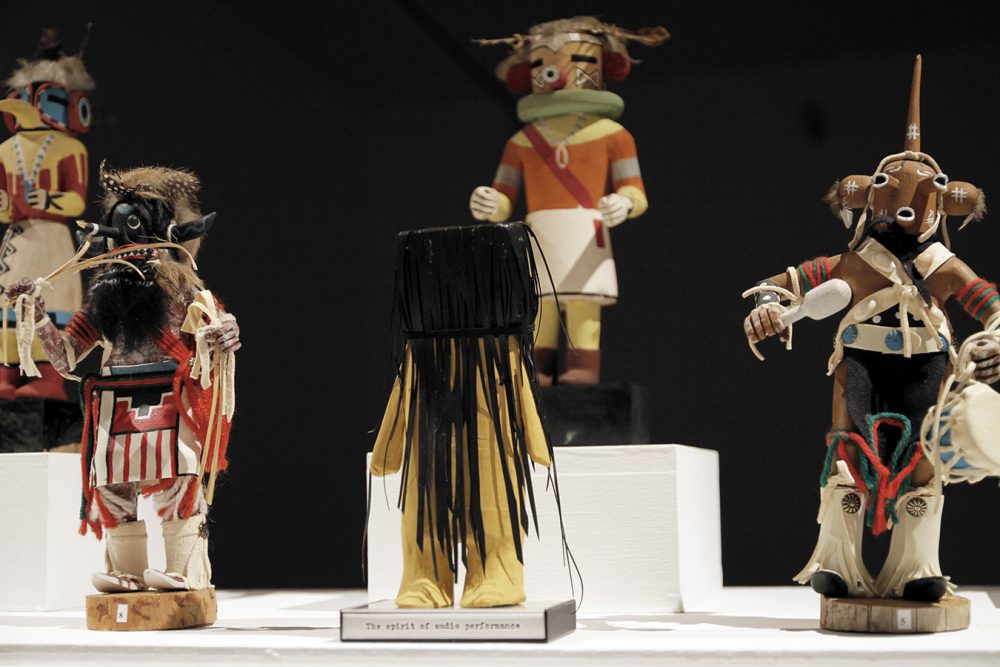 Mixed Media
11cm x 21cm x 6cm
2014
"Kachina" bezeichnet in der Kultur der Hopi den Geist einer Naturerscheinung in Form eines Tieres, einer Pflanze, eines Ahnen. Die figürliche Darstellung dieser Geister nennt man in der Literatur "Kachina Dolls". Die Fundación Eugenio Granell in Santiago de Compostella in Spanien zeigt einige dieser Figuren in ihrer Sammlung.
Der "Spirit of audio performance" wurde temporär zum Display dieser Sammlung hinzugefügt. Er repräsentiert einen von zwei Charakteren einer Sound/Sprachperformance aus dem Jahr 2013, die sich mit der Abstraktion von Begriffen wie das Unheimliche, das Übernatürliche, das Untote und den "spirit of research" auseinandersetzte.
Ortsspezifische Intervention im Museo- Fundación Eugenio Granell, Santiago de Compostella.
————–
In the believe of the Hopi Tribe, Kachinas are spirit beings or personifications of things in the real world. The Fundación Eugenio Granell displays some of these in their kachina figures collection. "The spirit of audio performance" was temporarily added. It represents one of two characters of an audio performance, which was a collaborative project in 2013, dealing with the abstraction of terms like the uncanny, the supernatural, the undead, and the spirit of research.
Site-specific Intervention at Museo- Fundación Eugenio Granell, Santiago de Compostella.