2 PIECES FOR A CHAUFFAGE
COMPOSITION FOR A CHAUFFAGE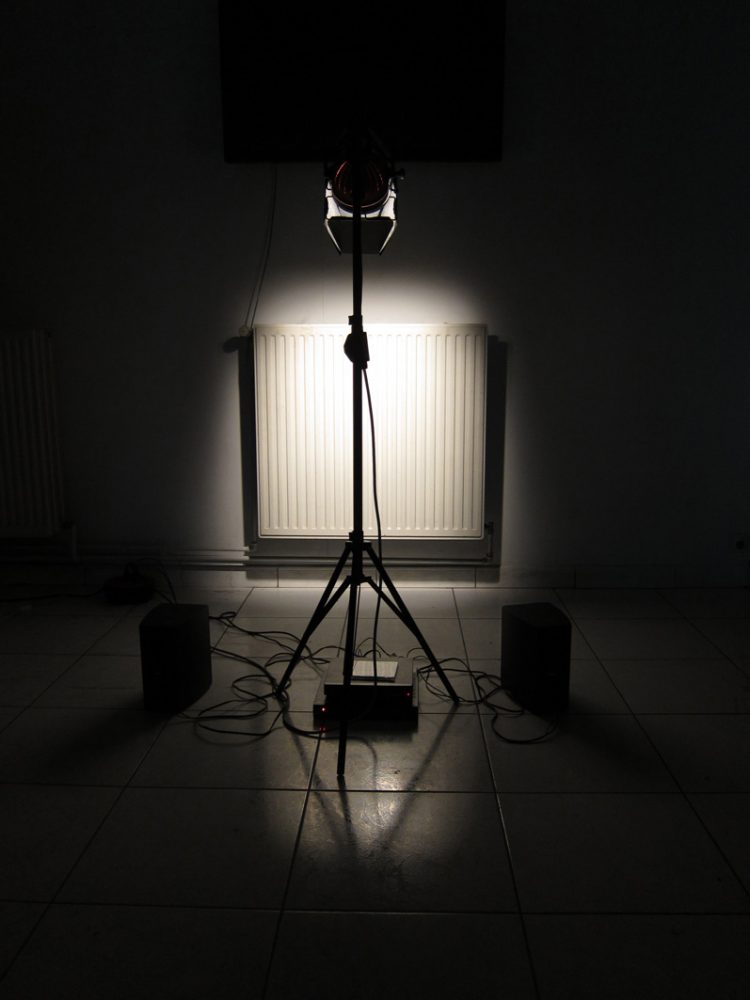 Licht, Lautsprecher
Audio loop
2011
Die neunminütige Komposition besteht aus Aufnahmen von den Geräuschen einer Thermosflasche.
Die verbindenden Elemente zwischen Thermosflasche und Heizkörper sind Wasser, Wärme und Druck.
Einige Geräusche der Thermosflasche könnten jederzeit dem Heizkörper zugeordnet werden.
Diese klanglichen Überschneidungen sind wesentlicher Bestandteil dieser Arbeit.
Die Lautsprecher sind so positioniert, daß man für das optimale Hörerlebnis der Heizkörper selbst sein müsste.
————–
COMPOSITION FOR A CHAUFFAGE
Light, Speakers
Audio loop
2011
The 9 minute composition for a chauffage consists of recorded sounds from a thermos bottle.
The connective elements between the thermos bottle and the radiator are water, pressure and heat.
Some parts of the sounds produced by the thermos bottle may be assigned to the radiator,
these overlaps are an integral part of this work. The speakers are positioned in a way, so that for
the ultimate listening experience, one would have to be the radiator itself.
INSIDE A CHAUFFAGE
Video loop/Stop Motion Animation
9:22 sek.
2011
In dieser Arbeit funktioniert der Beamer als eine Art Röntgengerät, welches uns erlaubt einen Blick in den Heizkörper zu werfen.
Inspiriert durch Erklärungsmodelle der Thermodynamik und ähnlicher physikalischer Phänomene, zeigt die Animation, welche Prozesse meiner Vorstellung nach in einem Heizkörper ablaufen.
————–
INSIDE A CHAUFFAGE
Videoloop/stop motion animation
9:22 min.
2011
In this work the projector operates like an x-ray device, which allows us to have a look inside the radiator.
Inspired by explanatory models of thermodynamics and related physical phenomena, the animation shows, which processes happen inside a radiator (or at least what the artist thinks happens inside…).