IGLOOP – just fading out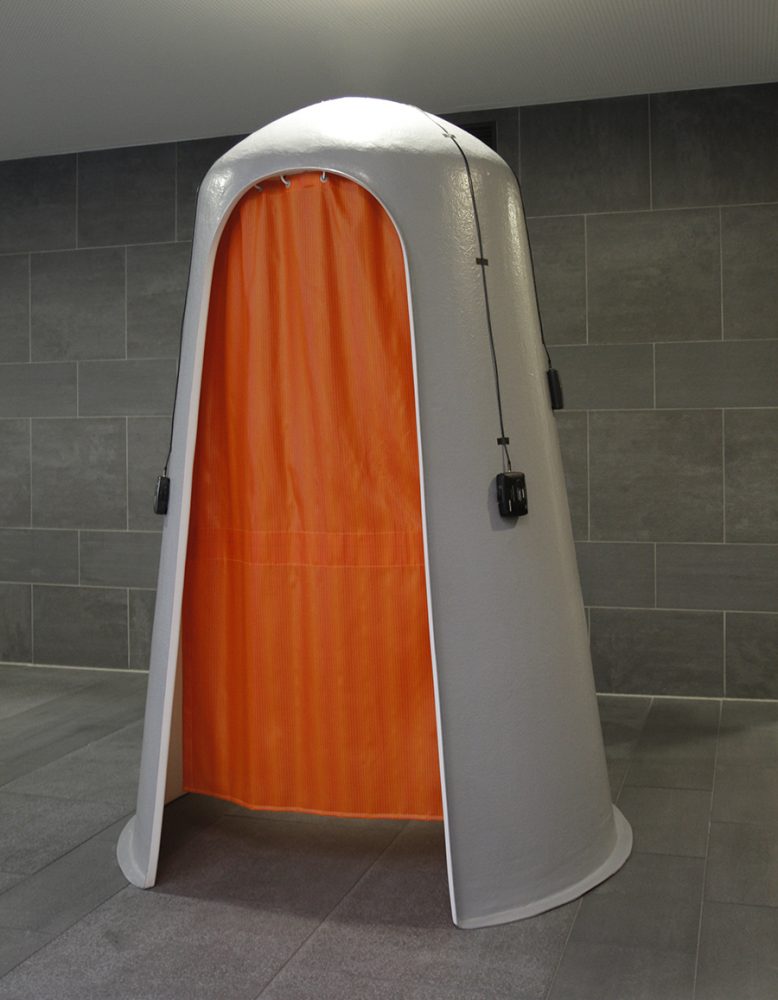 Soundinstallation
Walkmen, Kassettenloops, Lautsprecher
2016
Die Installation besteht aus mehreren selbstgebastelten Loops die vom Tonband einer Meditationsmusik Kassette aus den
70er Jahren rausgeschnitten wurden. Durch das geichzeitige Abspielen der Loops ergibt sich eine aleatorische Komposition.
Jedes Wiedergabegerät wird den Loop in einer anderen Geschwindigkeit und in unterschiedlicher Qualität abspielen.
Im besten Fall ergibt sich keine, wie ursprünglich intendiert, meditative Musik, sondern "Eerie Drone".
Mit der Zeit werden die Batterien schwächer, die Lautsprecher leiser, die Loops immer mehr abgenutzt, der Sound wird immer
mehr zu LoFi Noise und irgendwann geben die Geräte ihren Geist auf.
Diese Soundinstallation verweigert den Anschluss an den Strom (der ewiges Leben bringen würde) und im Gegensatz
zur Idee vom unendlichen Loop, hört sie irgendwann auf zu klingen.
Voraussichtliche Prognose laut Handbuch: 8h.
Für dieses Projekt wurde eine schon bestehende Umkleidekabine im Wellnessbereich des Hummelhofbades in Linz umfunktioniert.
Diese Arbeit war Teil einer 1 tägigen Intervention, wo im gesamten Wellnessbereich des Hummelhofbads in Linz Konzerte, Kunstinstallationen
und Vorträge, die sich mit dem Thema Wellness in Sound und Architektur auseinandersetzten, zu sehen und zu hören waren.
————–
IGLOOP- just fading out
Soundinstallation
7 Walkmen, Cassette-loops, Speakers
2016
The installation consists of several self-made cassette loops, which where cut out from a tape of a meditation-music cassette from the 70ies. Through playing them all together
simultaneously, an aleatoric composition is created. Each device is playing back the loop in different speed and quality. Instead of meditative music, a kind of "eerie drone" occurs.
Over time the batteries get low, the speakers too, the cassette loops worn out, the sound gets more LoFi Noise, and at one time or another, all the hardware will die away.
This sound installation refuses the connection to electricity (which would bring eternal life) and unlike the idea of the neverending loop, fade out starts as soon as you hit play. Anticipated forecast according to the manual: 8 hours.
For this project an already existing changing booth in the wellness area of the "hummelhofbad", a public swimming bath in Linz, was converted into a sound installation.
This work was part of a one day intervention in the whole wellness area of the hummelhofbad in Linz, where concerts, installations and lectures where carried out, dealing with the topic of wellness in sound and architecture.